CDC AUTISM Protest Rally Vaccine Injury SIDS Anti T Shirt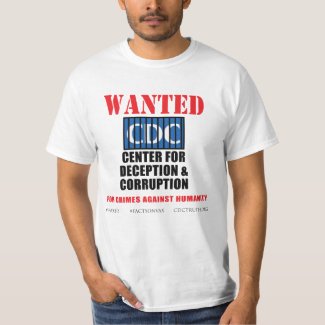 CDC AUTISM Protest Rally Vaccine Injury SIDS Anti T Shirt
by
FACTSONVAX
Create your own
custom tshirts
at Zazzle
Are you isolated due to vaccine injury?
Are you wondering where your family & friends went?
What are we going to do about this ramped corruption at the CDC?🤔
I'm SICK OF IT.
I'm DONE being alone and silent and alienated due to vaccine injury. I will NOT roll over and be silenced. I'm inviting you out of the shadows with me.
I will be driving with my autistic son from the Canadian border in NY to Atlanta to stand united with my fellow truthers on 4/22/16 at the CDC headquarters in Atlanta, Georgia from 7-2 pm.
I will be dressed in this shirt. I am asking that we join together as a team and all don the same uniform of solidarity. We've been isolated too long!
Can you imagine walking up to the rally and seeing others parents like YOU dressed the same?! POWERFUL!
Together we ARE going to stop this tsunami of vaccine damaged autistic people from growing!
WE ARE stronger United!
WE will NOT be silenced!
ALL OUR CHILDREN MATTER!
‪#‎CDC‬ ‪#‎AUTISM‬ ‪#‎Protest‬ ‪#‎Vaccine‬ ‪#‎SIDS‬ ‪#‎truth‬ ‪#‎VAXXED‬ ‪#‎factsonvax‬ ‪#‎CDCwhistleblower‬ ‪#‎CDCtruth‬ #TRUTH ‪#‎antivax‬
~ Healthy Alternatives to Vaccinations
http://www.healthyalternativestovaccines.com/